Exciting changes are happening at the 900 organizations taking part in the StEPs program (Standards and Excellence Program for History Organizations).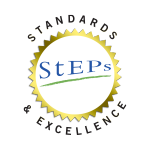 Our "StEPs Spotlight" blog series highlights accomplishments by participating organizations.
Below is another example of how StEPs is helping organizations take a leap forward by improving policies and practices, opening lines of communication, and setting goals for a bright future.
We recently honored Fort Nisqually Living History Museum as the 2017 StEPs graduate and wanted to share its story. The museum enrolled in StEPs in 2010 and is constantly striving to improve standards and best practices for the future. 
Fort Nisqually Living History Museum
Tacoma, Washington
Fort Nisqually Living History Museum is located in Point Defiance Park and is an attraction of the Metropolitan Park District of Tacoma. It serves the diverse community of Tacoma and the South Puget Sound Region of Washington State by interpreting life in the Washington Territory circa 1855. The mission of Fort Nisqually preserves, protects, and visually reflects the lives of the men and women that worked for the Hudson's Bay Company, as well as those that settled this area and helped build the community that lives here today. At present, the Fort consists of two structures that are recognized as National Historic Landmarks and many other reproduction buildings, some of which were constructed by the Works Progress Administration in the 1930s.
On July 14, 1986, the Board of Park Commissioners for the Metropolitan Park District reaffirmed that Fort Nisqually, (established in 1933), would be preserved as a historic site and represent, as accurately as possible, the original site of the Fort. This living history museum was meant to provide a variety of quality educational and recreational experiences for all residents and visitors of Tacoma and the surrounding region. In addition to support from Metro Parks Tacoma, the museum is also supported by the Fort Nisqually Foundation. The museum staff work closely with over one hundred dedicated volunteers to bring this museum to life as a real fort from the nineteenth century.
How did your organization become involved with the StEPs program? 
We enrolled in 2010 with the ultimate goal being awarded accreditation from the American Alliance of Museums.  Since Fort Nisqually is a smaller museum, the StEPs program was a better fit to help our museum make those preparations. The program helped our museum to become better organized and work collectively to make steps towards a larger goal.
What would you say is the most significant change or improvement within Fort Nisqually as a result of taking part in StEPs? 
StEPs gave us an awareness of our mission and goals, which encouraged us to renew, refresh and in some cases create a better vision for the road ahead. During the past few years, museum staff have looked to the StEPs program as a guide for what to do next in order to strengthen the museum.  Each of the levels represented a building block and when that level was achieved, we knew that we were that much closer to reaching a level of excellence desired at our museum.
What advice do you have for organizations just starting in StEPs? 
Organizations should take their time and evaluate each detail of the process.  If this means that you have to completely re-do some aspect of the operations… do it.  You will learn a great deal more about your museum and hopefully find ways to strengthen the organization along the way. Hiring a StEPs manager can take the burden off of other staff and keep the process flowing.
Fort Nisqually Living History Museum Website | Fort Nisqually Living History Museum Facebook