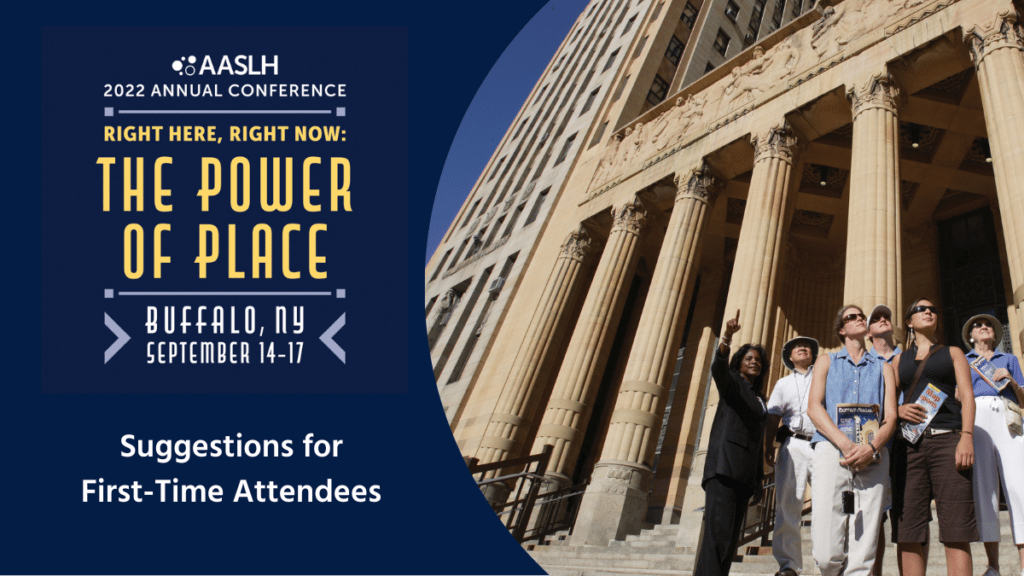 Will you be coming to the AASLH Annual Conference for the first time? No worries—each year, one-third of the people who come to the Conference are first-time attendees.
Here's some things to make sure to do to have the best experience in Buffalo this September.
First Time Attendee and New Member Networking Reception
Thursday, September 15 at 10 a.m.
All first-time conference attendees and new members are invited to this special event! AASLH staff and leadership will give a brief presentation about how to make the most of your conference experience and membership. Then, participate in a networking activity to make connections with others while enjoying complimentary food and beverages. This reception is free but preregistration is required.
Rick Hill's Keynote
Thursday, September 15 at 11 a.m.
The keynote is always one of the highlights of the Conference, and Rick Hill's speech immediately follows the First Time Attendee and New Member Networking Reception. Hill is a citizen of the Beaver Clan of the Tuscarora Nation of the Haudenosaunee at Grand River and he'll provide an indigenous perspective to the Conference theme of "Right Here, Right Now: The Power of Place." Hill has an impressive background, working in leadership in museums and in academia.
Diversity and Inclusion Mixer
Thursday, September 15 at 5:30 p.m.
The AASLH Diversity and Inclusion Committee invites all to the fifth annual Diversity and Inclusion Mixer! All are welcome to enjoy a lively evening of networking with the committee, other conference attendees, and local Buffalo professionals. The mixer is a great space to connect with peers and learn about the continuous work of diversity and inclusion within AASLH and the public history field. This reception is free but preregistration is required.
STEPS Morning Meet UP
Friday, September 16 at 8:30 a.m.
The Standards and Excellence Program for History Organizations (STEPS) is a self-paced, self-assessment program from AASLH. This program can help you and your organization obtain new funding, improve operations, determine priorities, and more. The STEPS Morning Meet UP combines presentations by experts in the field and brief discussion among peers to explore ways to use the STEPS program. Whether you are an existing STEPS member or considering enrolling in the program, this Meet UP will inspire you to think creatively as you implement best practices at your organizations. Preregistration is required and continental breakfast is included.
Exhibit Hall
Open September 15 – 16
Don't miss visiting exhibitors and sponsors in the Exhibit Hall to learn about their offerings and how they might help you and your history organization. During scheduled breaks, it is where you will find food and beverages. It is also where you can meet other attendees and continue conversations from stimulating sessions. You can also find some swag to take home.
Evening Events
September 14 – 16 at 6:30 p.m.
The AASLH Annual Conference is known for unmatched evening events and this year is no different. Experience Buffalo's unique places while meeting other history doers. Preregistration is required for all evening events.
Wednesday: Welcome to the City of Lights: Enjoy Buffalo-themed hors d'oeuvres, music, drinks, and networking at the Buffalo History Museum. The museum is the only building remaining from the 1901 Pan American Exposition.
Thursday: Evening at Canalside: Located at the 1825 Western Terminus of the Erie Canal, Canalside is at the heart of downtown Buffalo's waterfront revitalization. Stroll along Central Wharf and the Boardwalk and visit the Canalside Longshed and Buffalo Heritage Carousel.
Friday: Michigan Street Party: Join colleagues for music and food and meet the people who help preserve Buffalo's African American heritage. Historic sites on the street include the Michigan Street Baptist Church (a stop on the Underground Railroad), the Nash House Museum, the Freedom Wall, and Colored Musicians Club (access may be limited).