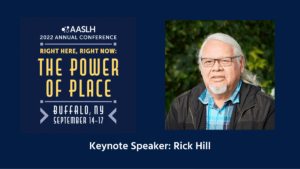 The 2022 AASLH Annual Conference takes place this September in Buffalo, New York, which is on the unceded lands of the Haudenosaunee people.
Our conference theme of "Right Here, Right Now: The Power of Place" prompts many questions. Among them is the question of what place and history mean to people of different backgrounds that now call upstate New York and Ontario, Canada home.
Rick Hill is a citizen of the Beaver Clan of the Tuscarora Nation of the Haudenosaunee at Grand River and the keynote speaker at this year's conference.
Hill is the Indigenous Innovation Specialist at Mohawk College in Hamilton, Ontario, Canada, and serves as a Cultural Advisor to FNTI in the Tyendinaga Mohawk Territory.
Hill is also working with a group of historians on a book on the history and legacy of the Mohawk Institute, the oldest Indian residential school in Canada.
He holds a master's degree in American Studies from the State University of New York at Buffalo. Hill has held a number of significant positions in his career, including:
Assistant Director for Public Programs, National Museum of the American Indian, Smithsonian Institution
Museum Director, Institute of American Indian Arts, Santa Fe, New Mexico
Assistant Professor, Native American Studies, SUNY Buffalo
Senior Project Coordinator of the Deyohahá:ge: Indigenous Knowledge Centre at Six Nations Polytechnic in Ohsweken, Ontario
His keynote will take place on Thursday, September 15 at 11 a.m.
Learn more about the other learning sessions and events at this year's conference.
The early bird discount on registration is available through July 29. AASLH members receive the best price on conference registration.