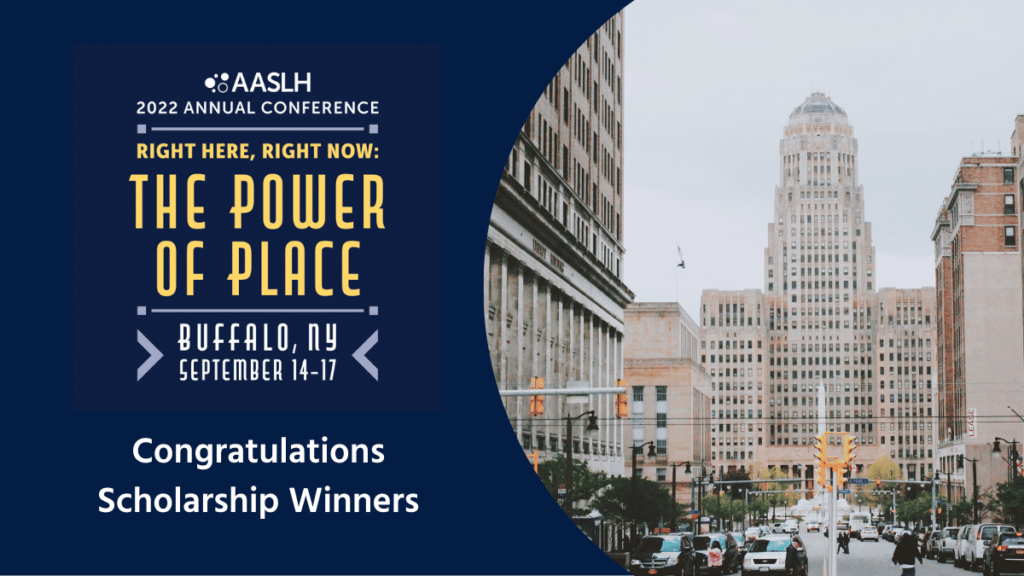 The American Association for State and Local History (AASLH) is proud to announce the winners of two scholarship programs for the 2022 AASLH Annual Conference.
Douglas Evelyn Scholarship for Minority Professionals
These scholarships are named in honor of Douglas Evelyn, AASLH president from 1992-1994, and recognizes Evelyn's strong support of AASLH's professional development mission. A primary objective of the Douglas Evelyn Scholarships is to increase culturally diverse participation at the AASLH Annual Conference and in all of the association's programs. The scholarships include the Annual Conference registration fee, a one-year individual membership in AASLH, and $700 toward travel and hotel expenses.
For the 2022 AASLH Annual Conference in Buffalo, eight scholarship winners were selected:
Li Edwards, Executive Director, American Chinese Museum, Wayne, Pennsylvania
Traci Jones, Education and Interpretation Specialist, Alabama African American Civil Rights Heritage Sites Consortium, Hoover, Alabama
Manisha Khetarpal, Dean of Library and Information Services, Maskwacis Cultural College, Wetaskiwin, Alberta, Canada
Deborah Omowale, CEO/Director, San Antonio African American Community Archive and Museum, San Antonio, Texas
Cathy Runnels, Culture and Arts Education Specialist, The George Washington Carver Museum, Cultural and Genealogy Center, Austin , Texas
Sierra Van Ryck deGroot, Deputy Director, Museum Hue, Allendale, New Jersey
Shu Wan, Doctoral Student, University of Buffalo, Buffalo, New York
Evan Wright, Academic and Community Engagement Manager, Castellani Art Museum of Niagara University, Niagara University, New York
AASLH Small Museums Scholarships
AASLH's Small Museums Committee offers scholarships to any AASLH members who are full-time, part-time, paid, or volunteer employees of small museums. The $700 scholarship covers the cost of registration. Any remaining funds can be used to offset travel and/or lodging expenses. To qualify, the applicant must work for a museum with a budget of $250,000 or less and either be an individual member of AASLH or work for an institutional member.
Congratulations to this year's scholarship winners:
Sarah Adams, Curator of Collections and Interpretation, Edwards Place Historic Home, Springfield, Illinois
Courtney Cochley, Curator, Hyrum City Museum, Hyrum, Utah
Evelyn Frederiksen, Museum Assistant, Oswego County Historical Society, Oswego, New York
Anne Jordan, Museum Manager, Little White School Museum, Oswego, Illinois
Marye Newman, Museum Manager, Atkins-Johnson Farm & Museum, Gladstone, Missouri
Melissa Swindell, Executive Director, Georgia Writers Museum, Eatonton, Georgia
Carolyn Venne, Executive Director, Friends of Wood Memorial Library & Museum, South Windsor, Connecticut
Julie Zasada, Executive Director, Cedar Lake Historical Association, Cedar Lake, Indiana