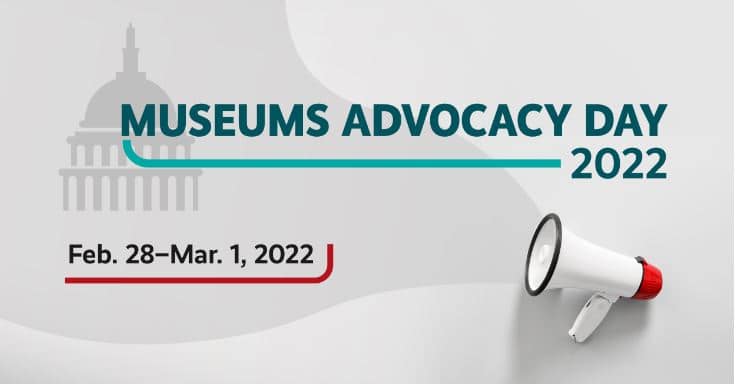 By Bethany L. Hawkins, Chief of Operations, AASLH
On Tuesday, March 1, hundreds of museum employees and volunteers from all corners of the field came together to speak to their legislators about the current needs of museums and how they can help. For the second year, Museums Advocacy Day, organized by the American Alliance of Museums (AAM) was held virtually with dozens of meetings between advocates, legislators, and/or their staff. AASLH is proud to be a partner in this important event.
This year, AAM requested delegates focus on three key issues:
1. COVID-19 Pandemic Relief Funding: The pandemic has inflicted profound damage on U.S. museums, the vast majority of which are 501(c)(3) nonprofit charitable organizations. The museum field will take years to recover to pre-pandemic levels of staffing, revenue, and attendance. Despite the tremendous financial and psychological stress caused by the pandemic, museum professionals are filling the gaps to meet the needs of their communities. They are demonstrating the critical role museums play in our country's infrastructure and deepening their social impact in their communities. Delegates urged Congress to:
provide additional funds to the Small Business Administration's (SBA) Shuttered Venue Operators Grant (SVOG) program, as well as for the Paycheck Protection Program (PPP), for museums ineligible for SVOG due to its requirement that museums have "fixed seating."
In unity with the broader nonprofit sector, we support the requests in this coalition letter and urge Congress to strengthen charitable giving incentives to ensure that all nonprofits, including museums, have the resources to serve their communities.
2. Institute of Museum and Library Services' Office of Museum Services Funding: IMLS is the primary federal agency responsible for helping museums connect people to information and ideas. Its Office of Museum Services (OMS) awards grants to museums to support educating students, preserving and digitizing collections, and engaging communities. Grants are awarded in every state, but current funding has allowed the agency to fund only a small fraction of the highly rated grant applications it receives. During the COVID-19 pandemic, OMS has provided critical leadership to the museum community through its CARES Act and American Rescue Plan grants, and the agency has been providing science-based information and recommended practices to reduce the risk of transmission of COVID-19 to staff and visitors engaging in the delivery of museum services. In FY 2021, Congress provided $257 million to IMLS, of which $40.5 million was directed to the Office of Museum Services. With this funding, OMS provided 275 grants totaling $40.5 million to museums and related organizations in 44 states, the District of Columbia, and Puerto Rico. We urge Congress to:
provide $54.5 million in fiscal year (FY) 2022 for the IMLS Office of Museum Services (the House-passed and Senate draft approved level), a much-needed increase of $14 million, and provide a robust funding increase for FY 2023.
include funding for the agency to explore establishing a roadmap to strengthen the structural support for a museum Grants to States program administered by OMS, as authorized by the Museum and Library Services Act, 20 U.S.C. Section 9173(a)(4), in addition to the agency's current direct grants to museums.
3. Tax Policy: Contributions to 501(c)(3) charities such as museums are tax deductible, incentivizing those who itemize deductions to greater generosity. Only about ten percent of taxpayers now itemize, however, and multiple measures show that both the amount given and the number of donors were declining prior to the pandemic. Giving appears to have increased during the pandemic, especially smaller gifts, due to the temporary provision that allowed people to deduct up to $300 of charitable gifts even if they do not itemize. We urge Congress to:
Cosponsor the Universal Giving Pandemic Response and Recovery Act, H.R. 1704 and S. 618, which would renew the universal charitable deduction that expired at the end of 2021. It allowed taxpayers who don't itemize deductions to deduct up to $300 ($600 for couples) of charitable contributions.
Incorporate language from the Legacy IRA Act (S. 243) into retirement reform legislation, allowing seniors to make tax-free distributions to planned giving accounts as well as to charities.
Even if you were unable to participate in Museums Advocacy Day, you can still advocate for these issues and more related to the work of museums. AAM has many resources, sample letters, and information briefs on a host of issues on their website. Take advantage of these resources with your local, state, and national officials.
The past two years have been particularly challenging for our sector, but there are things we can do to let our lawmakers know they can help. We challenge you to complete one act of advocacy this month. This can be as simple as writing a letter to your legislators or inviting them to your history organization for a visit. We never know what we can get for our organizations until we ask.