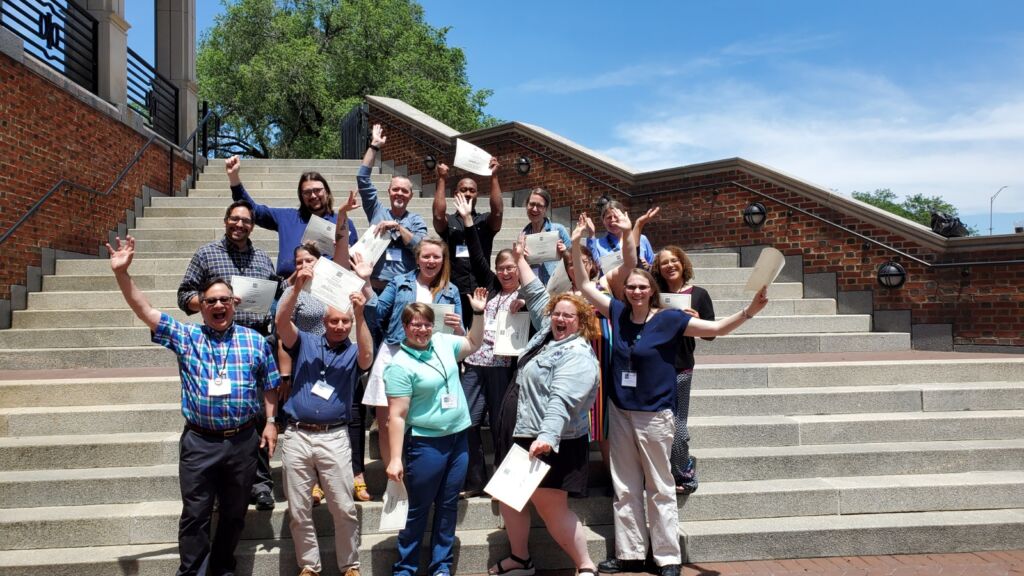 The 2022 History Leadership Institute Seminar cohort in Indianapolis.
The AASLH History Leadership Institute is the nation's oldest and most prestigious leadership program for professionals in the history museum field. The Institute hosts a Seminar each year which enhances the skills of leaders and prepares them to address important issues facing the history field. Participants are selected by application.
AASLH congratulates the 2023 cohort:
Haley Aaron, Alabama Department of Archives and History, Montgomery, AL
Shaelyn Amaio, Connecticut Landmarks, Hartford, CT
Paulina Budzioch, Chicago History Museum, Chicago, IL
Lindsey Crawford, James Monroe Museum and Memorial Library, Fredericksburg, VA
Abbie Edens, Conner Prairie, Fishers, IN
Brian Failing, Aurora Regional Fire Museum, Aurora, IL
Tamyra Gordon, Greenwood Seneca, California
Polly Hubbard, Harvard Museums of Science and Culture, Cambridge, MA
Justin Jakovac, Mountain-Plains Museum Association, Broken Arrow, OK
Gina Nichols, U.S. Navy Seabee Museum, Port Hueneme, CA
Gwendolen Nystrom, Pavek Museum, St. Louis Park, MN
Elizabeth Reighn, State of North Carolina, Department of Natural and Cultural Resources, Raleigh, NC
Daniel Ronan, Resilient Heritage, Austin, TX
Shirl Spicer, The Maryland-National Capital Park and Planning Commission, Riverdale, MD
Brooke Steinhauser, Emily Dickinson Museum, Amherst, MA
Lori Ann Terjesen, The National Women's History Museum, Alexandria, VA
Helen Turner, The St. Louis Kaplan Feldman Holocaust Museum, St. Louis, MO
JoAnn Zeise, South Carolina State Museum, Columbia, SC
Beginning at the end of May, these individuals will participate in a four-week seminar that includes workshops, discussions, activities, and field studies facilitated by nationally recognized experts. Participants will create strategies to address some of the most pressing challenges confronting history institutions today.
The first week of the program will be online, the following two weeks will be held in person in Indianapolis, and the last week will also be virtual. The in-person part of the program will allow participants to visit local history institutions during peak operating season.
The Seminar has been held since 1959. The Seminar is directed by Andrea Jones, who has just been named the new director of the History Leadership Institute.
The History Leadership Institute is guided and supported by some of the field's leading history organizations:
Association of African American Museums
Conner Prairie Museum
History Nebraska
Indiana Historical Society
Missouri Historical Society
Minnesota Historical Society
National Association for Interpretation
For more information, visit the History Leadership Institute page on our website.