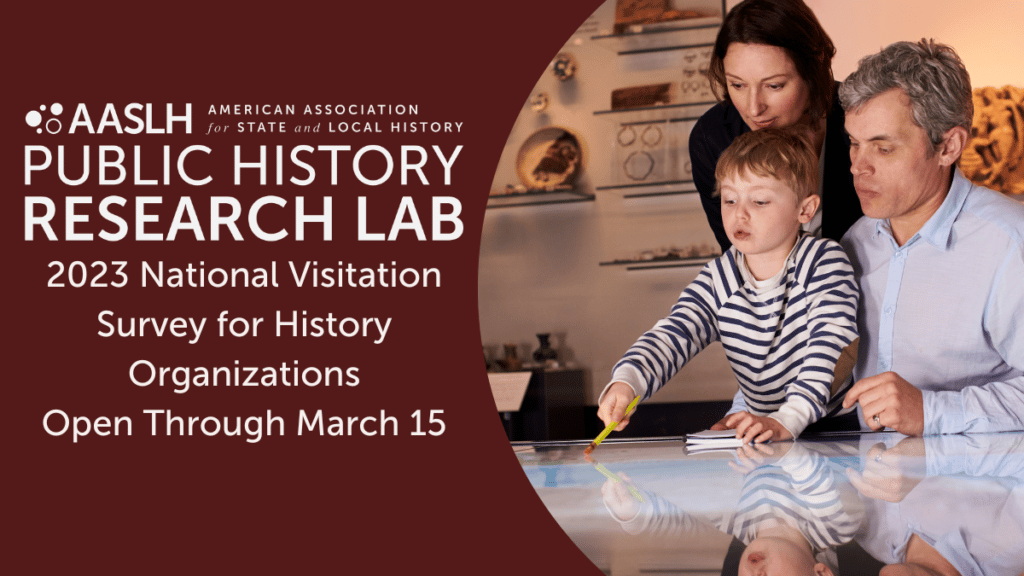 The fifth annual American Association for State and Local History (AASLH) "National Visitation Survey for History Organizations" is now accepting responses! This yearly research effort provides the history community with high-quality data and insights on public engagement with our organizations, supporting institutional benchmarking, advocacy, and more.
Your institution's participation is critically important!
A project of AASLH's Public History Research Lab, this research effort helps us to produce the National Visitation Report, the only effort to monitor and assess nationwide visitation trends at history institutions of all types and sizes. The report provides benchmarks by which history leaders can assess visitation at their own institution, while it also provides a broader understanding of public engagement with history in a way that supports advocacy, fundraising, resource development, and more.
Last year, the Visitation Report revealed that while visits to history organizations increased considerably from their lows at the peak of the COVID-19 pandemic, they still remained well below the levels reported before 2020. As the field continues to grapple with the ways the pandemic has affected staffing, funding, and other areas of institutional operations—and as fraught conversations about the nature of history continue to animate public discourse—this survey offers an important mechanism for assessing the impact of these shifts.
In order to track ongoing changes and to appropriately represent the incredible diversity of the nation's more than 21,000 history organizations, we need your help. Please take ten minutes to respond to this year's survey, helping your colleagues and the field in the process.
The survey will remain open through March 15.