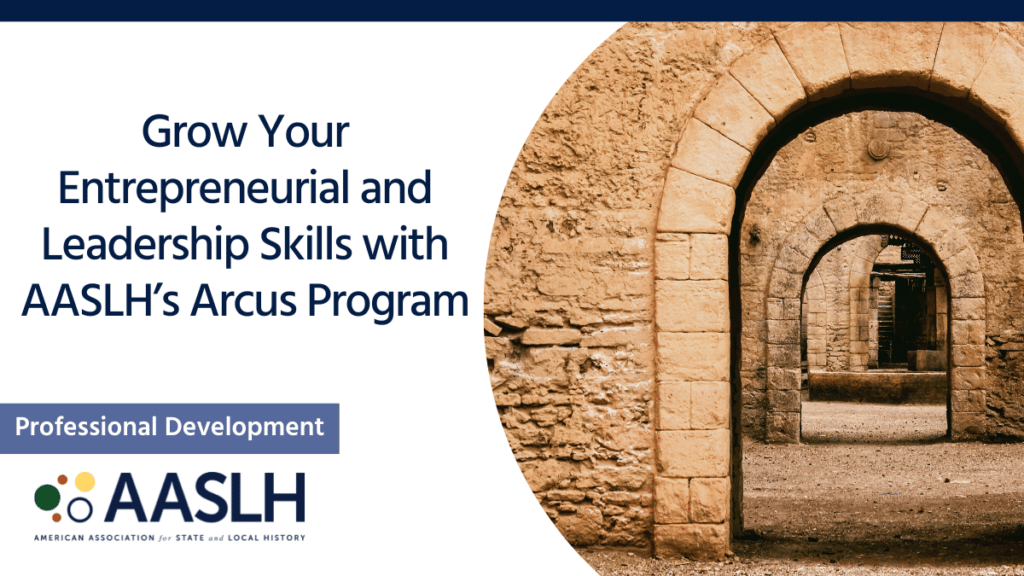 The Arcus program is the newest professional development offering from the American Association for State and Local History (AASLH).  
Through self-paced, online courses, Arcus assists those working or volunteering in the history field to think as entrepreneurs and leaders. 
This program has been specifically developed for emerging and mid-level professionals and those who are new to volunteering in history organizations. Individuals working in organizations of any size will benefit from the program, including those entirely run by volunteers.  
All Arcus courses are created by subject matter experts. The program is structured in three tiers of courses. The first tier courses will be available on the AASLH Resource Center beginning October 1. The first tier includes courses about:  
Diversity, Equity, and Inclusion:

This course defines diversity, equity, and inclusion and will show you how to drive it as a culture in your organization. This course is created by Kellie Martin, DEAI specialist and director of special projects for RePublic Charter Schools in Nashville, Tennessee.

 

Accessibility:

This course explains the basics of accessibility and provides opportunities for learning how to implement best practices at your own site, from the legal requirements to moral obligations. This course is created by Dr. Katie Clary, assistant professor of public history and author of

Programming for People with Special Needs: A Guide for Museums and Historic Sites

, published by AASLH.

 

Native American Inclusion:

This course will highlight working with Native American communities and incorporating their perspectives in history organizations. It has been created by Heather Bruegl, a citizen of the Oneida Nation of Wisconsin and first-line descendent Stockbridge Munsee. She is the director of education of the Forge Project.
Additional first-tier courses will also be available. The second tier of courses will be released in the spring of 2023 and the third tier will be released in the fall of 2023. Additional courses will cover LGBTQ+ inclusion, team building, fundraising, social media, strategic planning, and other topics. Participants will have to complete four or more courses in order to take courses in the next tier.  
Certificates Available
While all courses will be self-paced, participants who complete courses by certain deadlines will be eligible to receive certificates of completion. A Fundamentals Certificate will be available to those who complete 12-17 courses and a Professional Certificate will be available to those who complete 18 or more courses.  
Membership Discount
AASLH members receive discounts on all our professional development programs, including a $25 discount on all Arcus courses.  
All new Individual Members receive 20% off one Arcus course.  
For more information and to register for courses, visit aaslh.org/professional-development/arcus.