In more than 15 years of working in museums, from art museums to historic sites, I've grown used to artifacts having, shall we say, interesting histories.   However, I have never worked so hard to locate a specific artifact, a cookbook, that was, literally, above everyone's heads.
Several years prior to her passing, Senator Tom Watson's granddaughter, Georgia Watson Craven, sat down for a series of oral history interviews with her grandnephew.  She recalled many wonderful tidbits about life at Hickory Hill, Watson's Georgia home — the horseback riding, walking through the fields with her cousin and grandfather, the people who came and went from the mansion.  She also recalled things about Watson's diet, his preference for rare roast beef, and Campbell's canned tomato soup, and soda crackers.  One of his personal favorites was a type of meatcake made with ground meat and gravy concocted by Mrs. Watson when cook, Ella Rochelle, would relinquish the kitchen.  Watson preferred his with a dash of Tabasco. She thought the recipe had been published in a cookbook printed by the US Senate.
So, a search ensued through the best of our nation's archives, libraries, and repositories for just such a cookbook.  Online searches turned up myriad versions of the US Senate's renowned Bean Soup recipe, The White House Cookbook, and a website that features recipes from living Congressmen (Zell Miller's Sweet Potato Pound Cake, anyone?),  but nary a government cookbook from the 1920s.  After causing minor consternation with a very helpful librarian at the Library of Congress and promising I would hastily advise him should this mysterious cookbook ever surface, I was forced to abandon the search.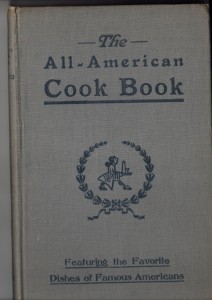 Within weeks of giving up the quest, I received a quasi-celebratory phone call from the home of this grandnephew, now deceased.  It seems a cookbook had been located – stacked upon the top of a kitchen cabinet holding up knick-knacks of varying vintages.  When said find arrived in my office I immediately searched the pages for the elusive recipe The All-American Cook Book: Being a Collection Chiefly of Recipes of the Favorite Dishes of Famous Americans, by Gertrude Frelove Brenber, publication date 1922.  Inscribed on the fly leaf "To Senator Thos. E. Watson, A 100% American and champion of those who defended their country in the 'World War.' – Gertrude Frelove Brebner, 546 Addison Street, Chicago, IL."  Could THIS be the elusive book recalled by Mrs. Craven?  After scrutinizing Warren G. Harding's Waffles, and Brig. General C.L. McCauley's Jellied Salmon, I finally arrived at Page 51…the RECIPE!
Yes, we made this particular dish with our summer camp kids.
Without further ado, please enjoy Senator Watson's Meat Pie: