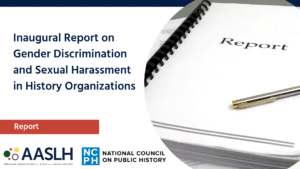 Today, the National Council on Public History (NCPH) and AASLH are releasing a first-of-its-kind report on the prevalence of gender discrimination and sexual harassment in history organizations in the United States.
You can read the report, which includes an executive summary, on our website.
Significant findings include:
Seventy-six percent of respondents reported experiencing gender discrimination and/or sexual harassment personally and 61% reported they know someone who had. While the survey instrument was not a representative sampling, these numbers are significant and point to the need for additional research and for the field to devote more resources and effort to address these issues.
A low proportion of the respondents (28%) officially reported instances of discrimination and harassment to their employers or universities.
Enough data was gathered to understand how people working in our field define sexual harassment and gender discrimination and where the existing legal definitions fall short.
A significant proportion of the respondents (28%) chose not to supply any demographic information. We assume this was to ensure their anonymity. Potential future surveys designed to gather demographic information will have to take this into account or alternate methods to gather this information will need to be considered, as the lack of data that resulted from this survey is not likely to be entirely a result of design flaws.
Larger institutions are no better at preventing, addressing, or resolving these issues than small institutions. More policies and human resource structures are not necessarily interventions that will influence the greatest change.
Survey respondents reported discrimination and harassment by non-colleagues, such as visitors on a tour or donors, and at locations outside of the work site itself. Work-related discrimination and harassment can be perpetrated and experienced by people from inside the organization as well as outside the organization and can happen anywhere that public history work takes place.
The report is the result of a year-long survey that launched in September of 2020. NCPH and AASLH contracted with Oberg Research to analyze the survey results and write the report.
We thank and acknowledge the work of NCPH's board-led subcommittee on gender discrimination and sexual harassment, which initiated this effort. We are grateful to NCPH for partnering with us on this project, which is of vital importance to the field.
Attend a webinar and help us determine how to proceed
We invite you to join us at a webinar on Tuesday, April 19 at 3 p.m. Eastern time to learn more about the report. Registration is required and can be completed at the NCPH website.
Participants will be encouraged to share feedback about how the field should respond to the report's findings.
A recording of the webinar will be posted on our YouTube channel for those not able to attend. If you can't make it and have ideas on how we should respond, please email us.
AASLH is committed to continuing to study the prevalence of gender discrimination and sexual harassment in the field and to doing what we can to reduce it.
Resources
If you have experienced sexual harassment, sexual violence, or gender-based discrimination, resources are available to you.