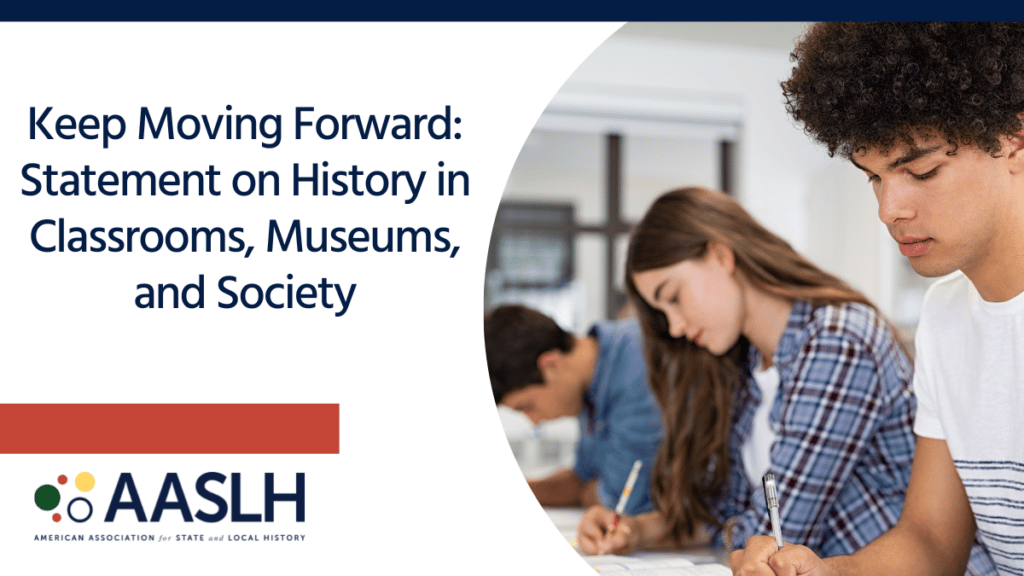 In three years, the United States will mark the 250th anniversary of the Declaration of Independence, a moment that offers great possibilities for civics and history education. AASLH views the Semiquincentennial as a once-in-a-generation opportunity to share with Americans of all backgrounds and beliefs the entire sweep of our shared history as we continue to make progress towards "a more perfect union."
Today, powerful people representing a small minority want to disrupt that progress. Although 30 states have formed commissions to prepare for the 250th anniversary, legislation has been introduced in 42 states and passed in 18 to restrict discussion of the history of race, gender, or sexuality in history classrooms. The state of Florida is leading the charge to drop the Advanced Placement African American Studies course, preferring to focus on a narrow understanding of African American history. School boards have banned books, established nearly invisible lines, and threatened teachers who cross them and venture into classroom discussions about a broadening range of historical and contemporary topics. Across the country, a powerful minority is racing to defund, disconnect, and deconstruct an honest history of America.
Exactly at the time when we all should be continuing to make progress toward a reckoning with America's whole history—the bad and the good, the broken and the just, our shortcomings and highest ideals—our work is being obstructed.
Over the past several years, communities have fostered efforts to address the nation's history of racism and violence, removing statues and other symbols of the Confederate Lost Cause, most of which were erected long after the Civil War as demonstrations of the power of white supremacy. Yet states across the country are threatening to punish teachers for candidly discussing the history of slavery and racism and the ways their consequences are still felt in American society.
From National Park sites to museum exhibits, LGBTQ Americans' history has been increasingly recognized as part of the American story. That work is now being hindered as hostile state legislation censoring classroom discussions and armed protesters threatening museums and libraries try to raise walls around the American mind.
Young people in classrooms and on museum visits expect and deserve to make sense of the shared American past. Each new generation has a right to understand how our society, with all its virtues and ills, came to be the way it is. To develop a thoughtful, reflective notion of what it means to be American—and how American-ness intersects with their other identities—students must grapple with an honest rendering of our history. Understanding their history connects them to their communities, states, and the nation, and helps them comprehend, and act in, the present. A blinkered education, whether in a school or on a field trip, makes it impossible for them to develop the critical thinking skills necessary not just for understanding history, but all aspects of the world around them.
The road to the Semiquincentennial is not a time to revert to old, simplistic, hollow, or one-sided interpretations of history. America's story began millennia before 1776, has been shaped by diverse, dynamic peoples and cultures, and is threaded with ideals that we have shared and continue to test around the world. This is our chance to provide for a wider, more engaged public the exciting work that museums, historical societies, historic sites, archives, and other history organizations have done over the past generation, applying new scholarship and museum and public history practices. Historical research and interpretation has never been so broad, deep, and vigorous—and so fully integrated into exhibits, park sites, and historical societies.
Now is the time to redouble our efforts to share this complex, full, contingent, challenging American national narrative, infused with specific, local examples. Now is the time to foster critical examination of our history as well as its use in explaining the present. If you have not reached out to support history educators in your state and local community, here is the moment.
As your professional association, AASLH is here to help:
AASLH is here to support you.