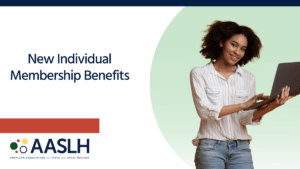 The American Association for State and Local History (AASLH) is making changes and adding benefits to our basic Individual memberships starting July 1, 2022.
Each membership year, AASLH is giving individual members half-off one recorded webinar from our library in the AASLH Resource Center and a special discount of 20% off one Arcus course. Both of these new benefits provide a savings of $20.
Individual members already receive:
There are four categories of Basic Individual membership:
Student: For active high school, undergraduate, and graduate students
New Professional: For museum professionals in their first three years
Individual Basic: For people during their career
Retired: A way to stay up to date with the field after exiting the workforce
If you are interested in joining AASLH as an Individual member, please reach out to the Membership Team at membership@aaslh.org or click on the button below.
Thank you to all of our members!