By Eric Morse, AASLH Marketing and Sales Manager
Zoom webinars have become a ubiquitous part of our daily lives. Unfortunately, in Ukraine, so have air raid warnings.
While speaking over Zoom recently, Ihor Poshyvailo had to pause when an air raid warning went off. In a sign of the resilience and determination of Poshyvailo and all others trying to preserve Ukraine's cultural heritage, he continued undeterred with his presentation.
Poshyvailo is the director of the National Memorial to the Heavenly Hundred Heroes and Revolution of Dignity Museum, or the Maidan Museum for short. He was speaking as part of "A Dialogue with Ukrainian Museum Leaders on Defending and Preserving Culture and Identity in a Time of War," presented by the National Museum of American Diplomacy on April 28.
Culture Central to War in Ukraine
The Ukrainian museum leaders made clear that culture is one of the central factors in the war.
"This is also the heritage war," said Poshyvailo. "It's not the war for the territory or of some quite wide political goals. It's a wide-scale war. It's a war against our memory, historical memory. Against our identity. Against our culture. And, of course, against our future."
Olesia Ostrovska-Liuta is the director of the Mystetskyi Arsenal, a visual arts museum and literary institution in Kyiv. "This Russian war in Ukraine is very tightly connected to culture," she said. "The basic assumption which lies beneath this assault is that Ukraine should not exist as a separate phenomenon with its own political agency. Any Ukrainian otherness from Russia should be erased. It is genocidal in its attempt and in its action, as we have already seen. Therefore, culture is in the very core of this war."
Preserving Ukraine's Cultural Heritage
Shortly after Russia invaded, the Maidan Museum created the Heritage Emergency Response Initiative. The Initiative is a network of museums and cultural institutions that are working to preserve cultural heritage during the war and to restore and reconstruct it when the war comes to an end.
The Initiative is assisting with the evacuation and rescue of collections, providing targeted assistance to museum workers and institutions, and searching for funds, materials, and other resources for those in need.
In addition, the Initiative is documenting cultural losses and crimes. So far, more than 260 cultural sites have been damaged or destroyed. This list includes:
12 museums
16 monuments
16 libraries
4 theaters
94 places of worship
Poshyvailo noted that many of these places were not targeted just because they were cultural sites, but because people had also sought shelter in them.
The 1954 Convention for the Protection of Cultural Property in the Event of Armed Conflict, commonly known as the Hague Convention, requires the establishment of special military units to protect cultural property.
Poshyvailo said that neither Russia or Ukraine were living up to their obligations to the Convention, despite both having signed on to it.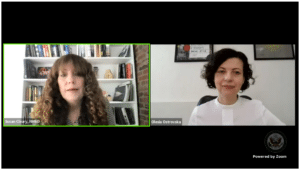 Susan Cleary, acting director of the National Museum of American Diplomacy, speaks with Olesia Ostrovska-Liuta.
Significant Challenges Ahead
Despite the heroic efforts taking place to preserve objects and buildings, Ukraine's cultural institutions face a difficult future.
The first challenge is to cultural and heritage workers. "Cultural workers are the force that really oppose this idea of eliminating Ukraine. These are the people that promote Ukraine as being a separate entity with separate political agency," said Ostrovska-Liuta. "Cultural workers are in huge danger, just like civil servants and journalists."
In addition to personal threat from Russian forces, workers have also fled the country and have lost jobs and wages. It will take years to rebuild the cultural workforce.
The economic crisis created by the war is creating hardships for institutions that aren't under immediate threat. Budgets have been severely cut. Ostrovska-Liuta said some institutions can't pay their electricity bills, which puts collections in danger.
Slivers of Hope
Despite the death and destruction, Ukraine's cultural community is soldiering on. Poshyvailo said museum workers are collecting objects, in addition to trying to save them, so they can tell the stories of the war to future generations.
Others in Ukraine have organized and are working to preserve the country's cultural identity, including a group called the Museum Crisis Center.
Ostrovska-Liuta offered three suggestions for the international community to provide support:
Creating programs to support cultural institutions in Ukraine
Developing exhibitions or educational programs that explain Ukraine's distinctive culture and history
Providing professional guidance on cultural preservation and security
Naturally, AASLH members with connections to Ukraine are leading the way. The Ukrainian National Museum in Chicago offers exhibitions and programs about Ukrainian culture. The Ukrainian Museum-Archives in Cleveland recently collected and donated humanitarian supplies to the Cleveland Maidan Association.
"We should not separate humanitarian and cultural spheres," said Poshyvailo. "It's only one sphere and culture cannot wait. We should do as much as possible to preserve cultural heritage in Ukraine."
You can watch the entire discussion at the National Museum of American Diplomacy's website.