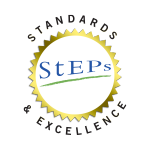 Exciting changes are happening at the 1,000 organizations taking part in the StEPs program (Standards and Excellence Program for History Organizations).
Our "StEPs Spotlight" blog series highlights accomplishments by participating organizations.
Below is another example of how StEPs is helping organizations take a leap forward by improving policies and practices, opening lines of communication, and setting goals for a bright future.
Monroe County Museum
Monroe, Michigan
By Andrew Clark, Museum Director, Monroe County Museum
When it was originally founded in 1939, the Monroe County Museum shared quarters with other community organizations in the Sawyer House, a historic home located in the city of Monroe. Through the generosity of the founders of La-Z-Boy, in the early 1970s the museum moved into a building of its own, the recently vacated United States Post Office. Our signature exhibits include the First Nations, French-Canadian Settlement, 200 Years and Counting: A Bicentennial Exhibit, and George and Libbie Custer. We also have changing exhibits throughout the year. A staff of three full-time and twelve part-time employees, eleven members of the Monroe County Historical Commission, and sixty volunteers work at the museum, which enrolled in StEPs in 2017.
The Monroe County Museum also operates the Territorial Park on the River Raisin, a seasonal historical park, which includes the Navarre-Anderson Trading Post (1789), Navarre-Morris Cabin (c. 1810), Papermill School (c. 1865), as well as a recreated barn and bake oven typical of the region in the 1790s and early 1800s. Additionally we maintain the Eby Log House (1859) located at the county fairgrounds and assist with the operations of the Monroe County Vietnam Veterans Memorial and Museum, a seasonally operated site. Before it was transferred to the National Park Service, the museum also managed the River Raisin Battlefield, a War of 1812 site.
The Monroe County Museum fuels and cultivates visitors' curiosity through the exploration of Monroe County's rich and varied stories, joining together to unearth meaning and illuminate relevant connections between the past, present, and future.
Why did you choose the StEPs program?
In 2016, the Monroe County Historical Commission (MCHC) and Monroe County Museum (MCM) were still shaking off the funk of potential closure from a few years prior. Additionally, the MCHC was undergoing a structural transformation. However, the leadership of the MCHC and MCM recognized that we needed to position ourselves to begin thinking of the future. Some of our initial conversations were around the idea of seeking accreditation but we quickly realized that we were not at a point where we could successfully go through the process. Once we settled with StEPs, rather than go through the process in-house, we contracted with Donna Braden from the Henry Ford in Dearborn, Michigan, to lead us through the workbook. Donna's experience, organization, and expertise with the topics covered really made it possible for us to finish the workbook in a timely manner.
Can you describe how your organization is making its way through the program?
Our general process in going through StEPs was for our committee comprised of historical commissioners and museum staff to meet in a retreat format generally followed with an enrichment session that integrated with some aspect of StEPs. As needed, we would augment the committee with historical commissioners or museum staff that would be the most impacted or could provide specific insights related to the topic of discussion for that day. Following each meeting, Donna would provide extensive notes and supplemental materials related to the topic of discussion. At every meeting of the historical commission, the StEPs Committee would then give a progress report. Periodically, Donna would give updates to the MCHC at meetings in Monroe or at retreats at the Henry Ford.
Hiring an outside consultant like Donna was one of the best decisions for us as an organization. The work that she put into it and knowledge she conveyed to us as a committee has been invaluable. One outcome was that Donna and our StEPs committee presented at the Michigan Museum Association's annual conference in October 2018 about the process and the dynamics of a large institution working with a small institution.
What would you say is the most significant change or improvement within your organization as a result of taking part in StEPs?
The Monroe County Historical Commission and Monroe County Museum have started to think more about the future in a thoughtful manner. We've been able to admit to our strengths and weaknesses as an organization and started the process of making the appropriate corrections. Perhaps, most importantly, we've developed strategic priorities and a road-map to accomplishing them.
Tell us about some other specific examples of positive changes within your organization as a result of participation in StEPs.
Our participation has been a little bit different from other organizations, but one of the most positive outcomes is working with colleagues from another museum. Additionally, historical commissioners and museum staff have learned more about some of the universal truths of the museum field (e. g., everyone needs more storage for collections and the collections storage you have could always be improved).
Which section of the workbook has been your favorite, and why?
Speaking for myself, I would say Mission, Vision, and Governance. Believe it or not, when we started StEPs we didn't really have a mission statement. That motivated us to create one as a committee, which we then presented to the Monroe County Historical Commission for adoption. This also set up our model of working with Donna on the workbook and also having enrichment sessions with staff and commissioners that related to some aspect of StEPs.
What advice do you have for organizations just starting in StEPs?
Take your time and be thoughtful. If you're in a position to have an outside consultant work with your organization like we did, I would suggest you take advantage of that opportunity. It can make all the difference.