By Sam Dinnie, 2022 AASLH Summer Intern
I am so excited to be part of AASLH this summer as the Research and Resources Intern. I will primarily be working in the Resource Center and am looking forward to getting up to date on current public history discourse and serving the needs of the museum community by putting together resource kits. I am planning on exploring topics such as trans inclusion, community outreach, interpretation best practices, and decolonization in my kit projects. My goal is for the resource kits to contribute to making museums more inclusive, accessible, and welcoming for visitors and staff to inspire creativity, imagination, and innovation in these spaces. I also hope the resources I provide will help museums tap into the incredible power they have to make change.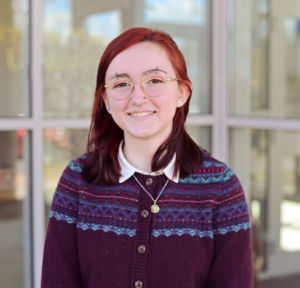 I graduated with my BA in history from Western New England University in May. My senior thesis was on the life and memory of Revolutionary patriot Joseph Hawley. It establishes Hawley's significance to the American Revolution and traces how his memory evolved in nineteenth-century American political culture from his death in 1788 to the 1876 centennial of independence. Thesis research and the mentorship of my advisor, Dr. Jonathan Beagle, were incredibly formative and greatly influence how I approach museum work. I felt connected to Hawley because he was, like me, born and raised in western Massachusetts. I saw part of my identity reflected in his story, and this connection prompted me to see how important historical representation is. Reconstructing Hawley's story required reading an extensive amount of scholarship, a lot of which I had difficulty reading at first—it felt like a foreign language. The inaccessibility of scholarship inspired a commitment to share academic research with the public through accessible interpretation to provide a more holistic understanding of the past to inform promoting a better present and building a brighter future.
I began my career in museums at Old New-Gate Prison and Copper Mine in Connecticut as a docent, where I discovered the power of storytelling, interpretive techniques, and diversifying those stories we tell. Being immersed in New-Gate's history and collaborating with the museum's amazing staff, I developed a passion for public history. That passion was cultivated while I was at Connecticut Landmarks, first as an intern and interpreter at the Phelps-Hatheway House and then as a researcher. As a researcher, I worked on a number of thought-provoking projects spanning topics such as political allegiance, public memory, and women's history, and had the opportunity to attend the 2020 AASLH conference, which introduced me to Diversity, Equity, Inclusion, and Access. I further explored DEIA and heard from more trailblazing professionals as a Board Diversity Fellow at the 2020 New England Museum Association conference, where I met my co-chair, Ali Kane, of the LGBTQ+ Museum Staff and Students Professional Affinity Group. Our mission is to provide personal and professional support for LGBTQ+ folx in the museum field and resources to make museums LGBTQ+ inclusive and affirming spaces. We have a Facebook group to provide more support and networking opportunities.
Within the past year, I have had the joy of doing LGBTQ+ inclusion work and holding positions at various museums. Last spring, I was a Research Fellow at the Harriet Beecher Stowe Center, where I researched the rumored women-loving-women sexuality of the Stowe Center's founder, Katharine Seymour Day. I navigated explaining Day's sexuality when she herself did not, contextualized her story within late-nineteenth and early-twentieth century LGBTQ+ history, and reviewed best practices for interpreting LGBTQ+ history. Following my fellowship, I started as an intern at the Paul Revere House. My thesis research formed the basis of the capstone paper I authored (with the tremendous support of my supervisor, Robert Shimp) on the role socioeconomics played in rising to leadership in Boston's patriot movement by comparing the experiences of Joseph Hawley and Paul Revere. The paper, entitled "'On the Title of Esquire': Joseph Hawley, Paul Revere, and Entering the Ranks of Boston's Gentry," was published in two parts in the Revere House Gazette. I was most recently the Editorial Intern at the Peabody Essex Museum. I had the exciting opportunity to work with PEM's phenomenal curatorial team on two exhibitions, On This Ground: Being and Belonging in America and Let None Be Excluded: The Origins of Equal School Rights in Salem. I learned so much about the breadth of curatorial and how to effectively and creatively do inventive interpretation in conversation and practice with my wonderful supervisor, Rebecca Bednarz. To conclude my internship, I wrote a reflective blog post and completed an interpretive concept exploration for a future Salem witch trials show.
I will be taking all of these experiences with me to Washington, D.C., this fall as I start my doctoral program at The George Washington University. I will be studying early American history and plan to pursue public history as a subfield to prepare for a career in museums. My goal is to arrive at a position as director of research or interpretation at a public history institution focused on early American history. In one of these roles, I will be able to present all I learned in my PhD program to the public through accessible, inventive, and inclusive interpretation and tell the diverse stories of early America so all visitors see themselves meaningfully represented in history. I am eager to continue working towards this goal and begin making change in the museum field through my research projects during my AASLH internship.