By Lori Osborne, Director, Frances Willard House Museum, Evanston, IL
In 1894 and 1895, Woman's Christian Temperance Union (WCTU) President Frances Willard (1839-1898) and journalist and anti-lynching activist Ida B. Wells (1862-1931) fought a war of words in the international press. Wells's anti-lynching campaign was well underway, but she was frustrated by the reluctance of influential white reformers like Willard to support her work. While on a speaking tour of England in 1894, Wells called Willard's moral leadership into question by re-publishing a newspaper interview from 1890 in which Willard had made racially charged statements.
Black women were strong supporters of temperance and many were WCTU members. However, white leaders of temperance and suffrage organizations, including Willard, often used stereotypes of black drunkenness and violence in order to build support for their causes among white women in the South.  When Wells confronted Willard with the evidence of such moral compromises, Willard and her defenders insisted that she was not a racist, citing Willard's family's involvement in the abolition movement.
Wells and her supporters continued to criticize Willard and the WCTU, and the conflict generated extensive coverage in the international press. In the face of mounting pressure, Willard took measures to address the issue and the WCTU passed anti-lynching resolutions in 1893, 1894, and in subsequent years through 1899.
Willard died in 1898 with the cloud of this conflict marring her legacy. Wells continued to work against racism and injustice until her death in 1931, not hesitating to criticize white women reformers when she felt they ignored or perpetuated racial discrimination.
On March 14, 2019, the Frances Willard House Museum and WCTU Archives launched Truth-Telling: Frances Willard and Ida B. Wells, a public history project which has as its centerpiece a website with an online exhibit about the conflict. The exhibit includes many of the primary sources that tell the story, a timeline and contextual information, and interpretive essays from various sources. A second part of the project includes ongoing community conversations and public programs about the conflict, to tell the story at the museum and in our community and beyond, to discuss the issues it raises, and to listen and learn.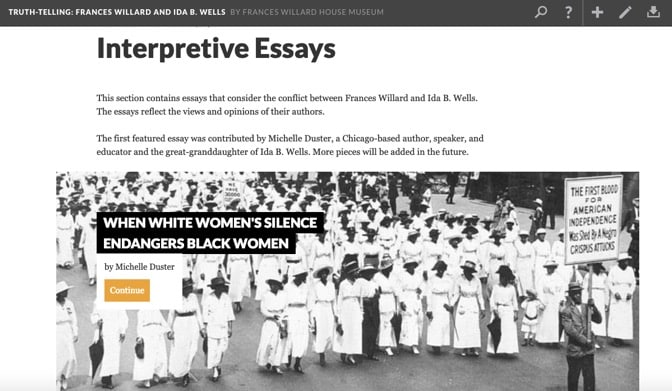 The website began as a project of a graduate student team in the Public History program at Loyola University Chicago and was completed by one Ph.D. student from the team, Ella Wagner. The launch took place in partnership with Northwestern University, where Willard was the first Dean of Women, and Loyola University Chicago.
The Frances Willard House Museum and WCTU Archives staff and the board of the Center for Women's History and Leadership, which operates the Museum and Archives, have made a commitment to uncover the full truth about the conflict between Willard and Wells, and to present all sides of Willard's life and work, the good and the bad. More broadly, this project hopes to address the conflict between these two significant American women as just one part of the complex and ongoing story of racism in America and American women's movements. As we build toward the 2020 anniversary of one hundred years of women voting in the U.S., we know how important it is to tell the whole story of the voting rights movement, how it succeeded to expand those rights, and where it failed.
---
Learn more about the Women's History Affinity Community.