This article was originally posted on Museums + Social Media. It is reposted here with the author's permission.
As I write this, I'm enjoying an amazing conference in Indianapolis, Indiana, where I'm representing AASLH at the National Council on Public History (NCPH) Annual Meeting. Last night, I had the opportunity to attend and explore the museum of the Indiana Historical Society, where I fell deeply in love with their History Lab.
The History Lab "provides a rare opportunity to go behind the scenes of a real conservation lab and explore the technology used to preserve the IHS collection." Conservation is almost always done behind the scenes, the many hours of labor and incredible skill-set going unseen and so unappreciated by the vast majority of museum visitors. But exhibits like the History Lab bring that work out into the light, using it as a tool to 1) help visitors of all ages appreciate the artifacts they will see in the rest of the museum and for the rest of their life and 2) create emotional investment in the organization and its success.
What does it mean to create emotional investment in your behind the scenes work? Well, I'll tell you! But first, let's check out some of the History Lab's cool displays and interactives:
The Touch wall lets you run your hands over various materials that might need to be conserved. It's a hands-on answer to the kids who ask "why can't I touch that?" and after four years of touching, the wall has become instructive for adults as well by showing how small touches add up to extensive damage over time.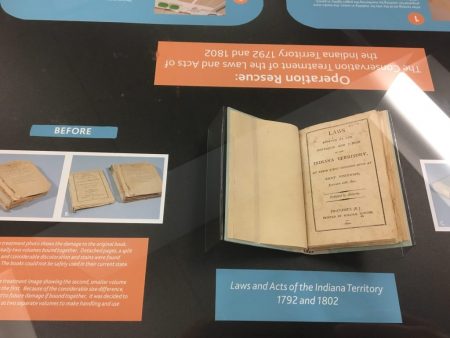 As a manuscripts and history-of-the-book nerd, I was fascinated by their paper cleaning display (above and below). I'm not interested in the slightest in the Laws and Acts of the Indiana Territory, but I'll never look at another plain historical book in a museum again because I'll wonder about whether they had to do as much cleaning as they did for this example. Below you can see that they actually saved the water from the cleaning.
A glass window and raised viewing platform let you look in on the working conservation lab itself. During the day, visitors can watch the conservators at work; a schedule of events lets visitors know what is getting worked on when, so they can stop by to see new projects underway.
A handheld digital microscope lets you see the tiny details and fibers in a number of historic papers and photos at different stations. Endless fun for kids from 2-92.
Last, but not least, they had classroom tables set up as they would when groups come through. I want to go back and play with the conservation tools!
So back to my earlier point: what does is mean to create emotional investment in your operational success?
A visitor may visit and enjoy, but never know how much time, love, energy, expertise, and actual sweat goes into even the smallest exhibit or maintaining even the smallest historic house. They may only see the static finished product. But in fact, many aspects of the museum field are fascinating. If your audience knows everything that goes into the museum or historic site, they can become invested in the outcomes of your projects, exhibits, and programs. Now that I, the visitor, have seen what goes into making even a small case of old books, I can appreciate the effort that goes into it. I'm more likely to understand why the museum needs to fundraise and why they have so many staff just to put on one exhibit.
So, I'm guessing you don't have a special behind-the-scenes exhibit at your museum. So how can you let your audience behind the scenes and get them emotionally invested in the work that goes into the exhibits they enjoy? By sharing online in blogs and social media. My advice is to keep your smart phone or camera handy and record the parts of your tasks that are unique or interesting. Moving collections? Snap a photo and briefly explain some interesting fact about storing collections or the work that goes into keeping them organized. You might even experiment with live streaming the more interesting aspects on Twitter or Facebook, like when the North Carolina Museum of History filmed a Wright Brothers airplane arriving to the museum.
Just remember, if you are excited about it, it's probably worth sharing. Just think about what your audience may find interesting about your work, and share nice quality photos of the process with simple, concise captions.
Want to learn more about marketing? Join one of four AASLH webinars on marketing scheduled this summer, all led by Hannah Hethmon: Planning for Marketing at Museums and Historic Sites, Facebook for Museums and Historic Sites, Twitter for Museums and Historic Sites, and Instagram for Museums and Historic Sites. You can also purchase a recording of the webinar Social Media 101 for Museums and Historic Sites.